Alright, here is our final itinerary. (I hope!) I will put what we paid, and then how much it should have cost if we paid outright cash.
We start off our journey at the Hyatt Place in our hometown of Pensacola. It cost us a grand total of 8,000 Hyatt points, transferred from Chase Ultimate Rewards. ($145.65). We wanted to be right next to the airport for the early morning flight to Dallas. The layover in Dallas is only a little over an hour, but we've been through that airport before and should be able to make the connection. After 13.5 hours in business class, we should arrive at around 4 pm. At this point we'll have been awake for 20 hours assuming we don't take a nap on the plane. So the plan is to head straight to the hotel and just dabble around the area for the evening until we make it an early bedtime. We'll be at the Tokyo Hyatt Regency and opted into paying a few extra points to get a deluxe room with club access because neither of us has status and we wanted the option to use the lounge for breakfast and snacks due to being in an unfamiliar place. It was 51,000 Hyatt points ($1,215.56) If you're following along, we've paid a total of $11.20 for a cash value of $10,703.41. Not too shabby. After a 3 nights in the area, we head west to check out Mt. Fuji.
We'll be staying in the near Lake Kawaguchi in the Five Lakes region with the hopes of some great views of Mt. Fuji. If it were a warmer time of year, we'd for sure summit the mountain. I booked this place using hotels.com gift cards purchased from various retailers on sale. It was $225.46, but the lowest discount I'll buy for is 10%, so we'll say I paid $202.92.
I have a few things I'd like to do in the region, so with any luck, we'll cross most of the items off my list. (Ice Caves anyone?) Then, after 2 nights, we leave Japan and continue our journey. First stop- Hong Kong.
This is actually the first leg of HND-HKG-CMB, which you'll see play out next. We have a 23 hour layover in Hong Kong that we'll utilize just to sleep for a night and enjoy a different culture for a day before we head to Sri Lanka. As you'd imagine, our room is nothing special. We'll arrive at 8 pm and we just wanted a bed to sleep in for the night. Grand total was $77.84 and it's in the city, so we'll hail an Uber to the hotel.
After a hopefully somewhat restful night, and a day exploring Hong Kong, we'll be off again to our final destination of this booking.
Here is the 2nd leg of the journey from Japan. We arrive in Sri Lanka very late, around 11:40 pm and have arranged a pickup from the airport from the hotel we'll be staying at. We originally had an Airbnb booked with a host that had FABULOUS reviews and offered pickups and tours of the area, but due to COVID-19, he had me cancel. With any luck, we'll re-book that when he becomes available again. Anyways, the hotel cost us $64 for 2 nights. You probably already guessed we booked this with hotels.com gift cards. I'm not going to leave at least a 10% discount on the table! As for Sri Lanka, I really wish we had more time to spend here. After I booked the flights I started looking for things to do and this place looks amazing. We'll only have 1 full day, and will probably spend most of it close to Colombo, but it's going on my list of places we'll need to return to assuming everything goes well.
The next part of our journey is the crown jewel of the trip, it's what started my scheming and planning. You see, when Blanch and I came together in both mind and spirit 3 years ago, I promised her something. We'd take her dream vacation in 2020 after we were debt free. A few things have changed along the way. (Ok, A LOT) But the promise has never faltered. It'll take another post to explain everything, and that's not what this one is for. So without further ado.
After 2 nights in Sri Lanka, we'll get up early and take a flight to the Maldives.
You'll notice that this flight is quite a bit different in terms of value and level of service as well. I had originally booked a direct flight from Japan to the Maldives, but I never could secure the perfect flight for after we left the Maldives, so it forced me to reschedule part of our trip. I originally intended for the entire journey to be in business class, but it became impractical to spend so much on these short flights.
We'll arrive in the Maldives at about 8 am and the plan is to meet someone and have them bring us to the Conrad lounge while we wait for our transport to arrive.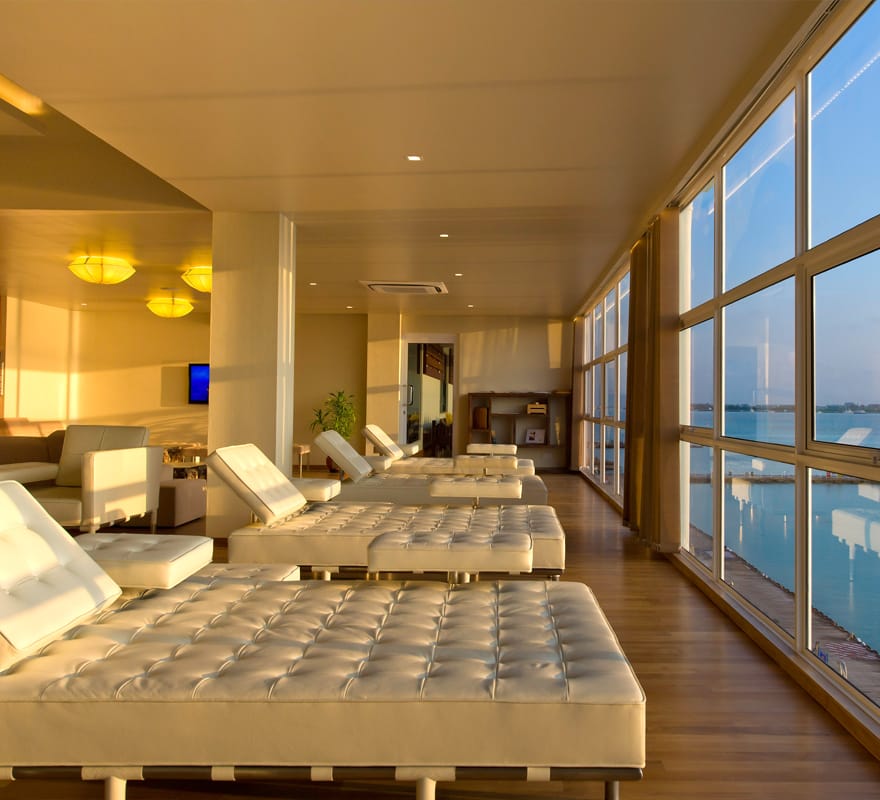 After a short wait, I could wait here all day if I had to, we will be met with our transportation.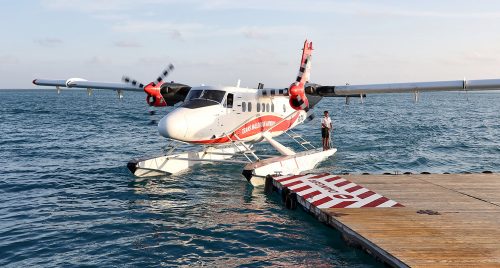 I won't bore you with all the details of our stay, maybe another post, but we'll be staying in the Superior Overwater Villa. We paid 380,000 Hilton points for 4 nights and since Blanch is Hilton Gold, we get the 5th night free.
One of the biggest drawbacks of trying to reduce costs with points for this vacation we could NEVER afford if we had to pay cash for the whole thing is- Sometimes there are things that can't be booked with points. The Conrad has a few of those things.
The seaplane transport is $590 per person round trip, and we upgraded our room from the standard room you can book with points to the Superior Overwater Villa for a grand total of $366 extra. So just the base stay itself without any extras is $1,546 for 5 nights. Seeing as the room itself using cash rather than points should have been $7,768 not including the seaplane transfer, I think we came out ahead. My tune may change upon checkout however, because I've read the food is outrageously priced. We do have the Gold status that I referenced earlier and will be utilizing it for free breakfast daily as well as some happy hour times the resort offers.
After it's all said and done, we're hoping to have had an amazing time. A few scuba dives, a massage, lots of sun, lunch underwater….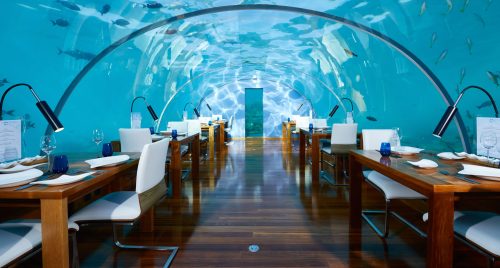 I'm sure 5 nights in the Maldives will fly by and we'll be off to our next destination. I booked an overnight flight from Male to Istanbul, it doesn't depart until 11:35 pm. The Conrad will let us stay late, but not that late due to the seaplane needing daylight to operate. We'll spend an afternoon exploring the capital city until our flight, we will coordinate this with the Conrad before we depart.
As stated earlier, we're taking an overnight flight from MLE-IST. It's scheduled to arrive in Istanbul at 6:20 am. After taking into account the time change, we'll have about 9 hours to catch some sleep. Thankfully this is the part I rebooked to ensure we had lie-flat business class seats so we could actually attempt to sleep. Our end goal is actually Kayseri airport which is close to the middle of Turkey. Before we do that, I arranged it so we'd have close to a 12 hour layover to try and explore Istanbul a little. I couldn't just fly through and not experience some of the city that was the capital of the Byzantine Empire for 1,100 years.
We'll start our morning with a quick shower in one the lounges that we have access to due to flying business class and having the Priority Pass. Then we'll head out the door and into the city. This will be the first time in about a week that we'll have to find our own way across town again. The plan is to take an uber from the airport down to the heart of Istanbul to check out a couple of things I have on my list.
After spending most of the day in Istanbul, I'd like to try and get onto one of the Bosphorus Cruises before we have to head back to the airport to catch our evening flight to Kayseri.
Kayseri airport is the closest I could get us on points to Goreme, which is another bucket list destination on our agenda. Upon arrival we'll be picking up our first rental car of the entire journey. The public transportation is lacking in the area, and we'd really like our own car to explore the area.
The location I selected had a few features that we were especially interested in. One of the primary reasons is that it's in the Cappadocia region, which is where we wanted to ride a hot air balloon.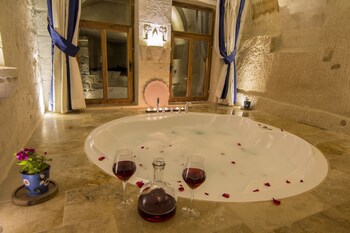 A LOT of our trip is going to be weather dependent, none more so than the hot air balloon rides. We have experience with one other flight. It took us mutliple reschedules and we even switched companies before we finally took flight 10 weeks from our originally scheduled date. We'll have about 3 days to attempt this, so fingers crossed we get a chance to do it.
3 days and 4 nights of exploring the mountains and chimneys of the Cappadocia region is all we get before we're off to our next adventure. We'll head back into Kayseri to drop off the rental car and stay the night with some locals we found on Airbnb. The next morning we'll officially enter Europe for the first time.
We have a morning flight to Amsterdam that routes us through Istanbul again. I wish I had done a little more research and just paid cash for a direct flight from ASR-AMS, but it's a little too late now. Lifemiles is requesting $150 each to cancel the reservation, which is far more than I paid for it to begin with.
We'll arrive in Amsterdam around 4:30 pm and grab a rental car. Maybe hit up parts of the Jordaan before we stay the night at the Hyatt Amsterdam Airport that I scored for 8,000 points. ($133.78) I love the Hyatt Place brand because we don't have status with Hyatt and it guarantees free breakfast which elimates some cost to the trip. It doesn't hurt that I consistently get great point to cash value from them as well.
This next part of our journey is very loosely scheduled. We have a rental car for 6 days including last night, and reservations at 4 different locations throughout the Netherlands and Belgium. I'm hoping to just drive from one point to the next, taking all day and not rushing. There are no appointments to make, no flights to catch nothing except beds to sleep in, and a train waiting for us in Brussels that will take us to Paris.
The first full day will be spend driving south and hitting a mix of big cities and small towns. I figure a 3 hour drive could be done within a day with plenty of time to stop along the way.
After our first day in the Netherlands, we'll take a quick stop in Hilvarenbeek at a place I found on Airbnb. It's a tiny house with tiny horses outside.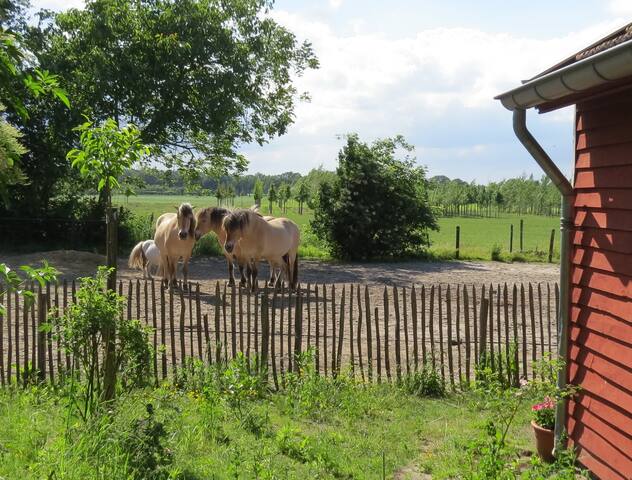 The next day our goal is to make it down to the Winslerhof Country Estate. We're using this as a base to explore a little of Germany for a day or so. There's no real agenda, other than stop and enjoy ourselves wherever we please.
It's a a luxury hotel I was able to book with Hyatt points. It cost us 24,000 points rather than the $350 that 2 nights should have cost us.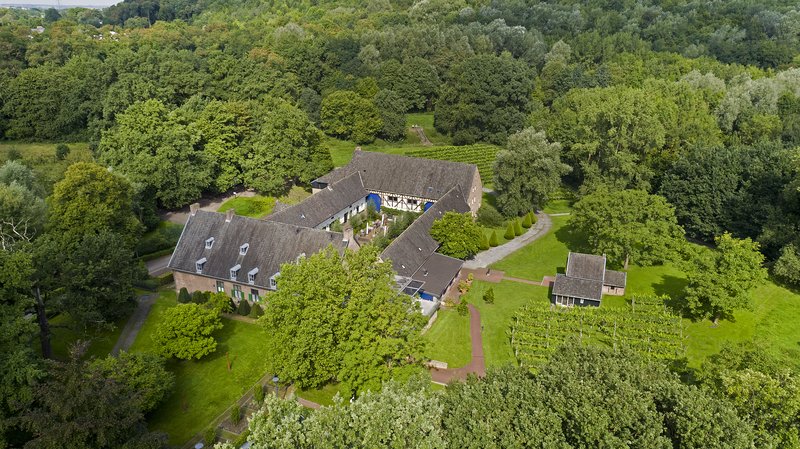 The idea is that we arrive at the Winslerhof the first day a little later on, then take the full next day exploring Cologne and Bronn on the way back to the quaint estate, we'll stop in Aachen to check out another cathedral. I have a feeling Blanch will be sick of the buildings by the time we arrive in Paris.
The next morning we'll visit Maastricht on our way out of the Netherlands. This is where we'll head into Belgium with chocolate and waffles on our minds. Yet again, no agenda here, just need to make it to the Hilton in Antwerp by bedtime.
This is one of the unfortunate parts of relying on points. There were no places available with the points systems we use that I was willing to book. There's a Hilton in Antwerp that will give us free breakfast and is very nice. The only option I had in Bruges was with Hyatt and it was 20,000 Hyatt points (which are valued higher than Hilton) and didn't include parking, or free breakfast. We would have been out of pocket quite a bit. So we opted to drive the extra hour the next day. Since we're still not in a hurry, it all works out well. The Hilton cost us 11,000 AMEX points. ($152)
I'm sure we won't lose any sleep at night making the decision we did. After all, once we arrive in Brussels, the next day is PARIS! We'll be hopping on the train from Brussels Zuid and taking the high speed Thalys down to CDG Airport north of Paris. The traditional bus/train route would take us a little over 6.5 hours, and we've cut that down to a little over 2 hours on the high speed train. That night we'll stay at the Hilton Garden Inn in Brussels for 10,000 AMEX points transferred over. ($144)
We have now reached the final stop of our glorious journey. We'll make another before we get home, but that is just due to how the flights had to work out. Paris- The city of…. It doesn't really matter at this point. 5 nights at the Niepce Hotel for 74,000 Hilton points ($1,270) is all we spent due to getting the 5th night free with Hilton. We'll also score free breakfast and I'm hopeful for an upgrade. Regardless of which room we get, we're sure to enjoy it.
I would like to venture out to Versailles for a day trip. It's a place we all heard about growing up in the history books, and I'm also a sucker for Unesco World Heritage Sites.
Sadly, at the end of our 5 days in Paris, it's time to start heading back home. We'll hop on the train to CDG airport where we'll stay one more night. No need to get there early, so we'll soak up one more full day in Paris. The hotel cost us 8,000 Hyatt points. ($115) We actually didn't opt into a free breakfast hotel this night because we'll have lounge access and will just eat there in the morning before our flight.
The next morning we'll be flying again. I'm sure it will be bittersweet, but knowing myself, I'll be excited to plan the next trip we do by this point. Yet again another oddity with points bookings. I wanted to emphasize business class as much as it was reasonable to do so. Especially when we were crossing the two major oceans due to the length of time in the air. This forced me to break up our return flight. We'll be flying from Paris to Toronto, and waiting about 7 hours there. We'd like to sneak out into the city if at all possible, so I'll be exploring our options for that one. Then we fly down to Orlando where this ticket actually stops. If I tried to route us all the way home it forced us into Economy class. We're not too good for that by any means, but we had the miles and that's not what we wanted to do.
We'll arrive in Orlando close to midnight, and the flights home were typically at 7 am. Instead of going straight home, we decided to spend a night in Orlando to recharge our batteries. If you've ever met us, you know there's no such thing as resting. We'll find something to get into. We've tossed around the idea of getting a tattoo to commemorate this journey. We'll be staying at the Hyatt Place in Orlando, free breakfast once more. The flight home was actually free… There's a trick when you use United miles. Earlier when we flew from the Maldives to Turkey, it was actually part of a larger itinerary where I booked that flight, the flight home, and a future undisclosed flight all at once in order to get the free middle segment. That is a whole other post to explain the process.
I hope you enjoyed following along as much as I have writing about it. Now we all just need keep our fingers crossed that COVID-19 allows us to actually take this trip. Now, according to my calculations, we'll have spent a little under $6,000 on this 5 week vacation. That's not chump change, I understand. We've saved up for a long time to take a trip like this. However, the actual cost is a little mind blowing. It comes in right under $55,000… Sometimes I don't even believe that this is possible, but it is. I'll have to make another post to explain some of the processes behind this.
Until next time!